We carry out all the necessary work to ensure the perfect functioning of the electronics of your guitars.
Whatever the problem with your instrument – from intermittent crackling to no sound output at all – don't hesitate to bring it to us for a checkup. We work on both solidbody and archtop guitars, as well as folk and acoustic guitars equipped with amplification systems. The process will begin by fully checking the condition of the electronic assembly to determine the origin of any problems. Depending on what is observed, the services below may be carried out:
Cleaning potentiometers, selectors and other switches, jack sockets in order to avoid any

 crackling when they are used.

Rework of damaged or "cold" solder joint, which can occur on an instrument where the tin of the solders has been weakened by time, making them more likely to break in the event of an impact.
Cleaning of oxidized parts, this phenomenon may appear following the disintegration of old plastic materials and risks compromising the effectiveness of contacts between the electronic parts, in addition to affecting the aesthetic appearance of the instrument if oxidation occurs. to touch the visible parts.
Replacement of defective components – when thorough cleaning no longer restores the proper functioning of the selectors or potentiometers, it may be necessary to replace them. The same goes for older electrolytic or PIO capacitors, whose electrical characteristics change as they age and no longer allow good progression in tone control or other functions. *NB all components will be replaced by quality substitutes, as close as possible to the original.
Complete rewiring, an operation which may be necessary when the condition of the current wiring is so degraded that it no longer allows the proper functioning of your instrument or in the case of a modified vintage guitar that you would like to have rewired as per  the original.
Installation of floating pickups on archtop or jazz guitars, we offer different models of pickups allowing the amplification of your guitar while preserving its original appearance – no routing of the top, only discreet drilling if necessary on the edge of the fingerboard, we build identical copies of pickguards in order to mount the potentiometers without damaging the original part…
Change of pickups, in order to install those of your choice.
Installation of amplification systems on acoustic guitars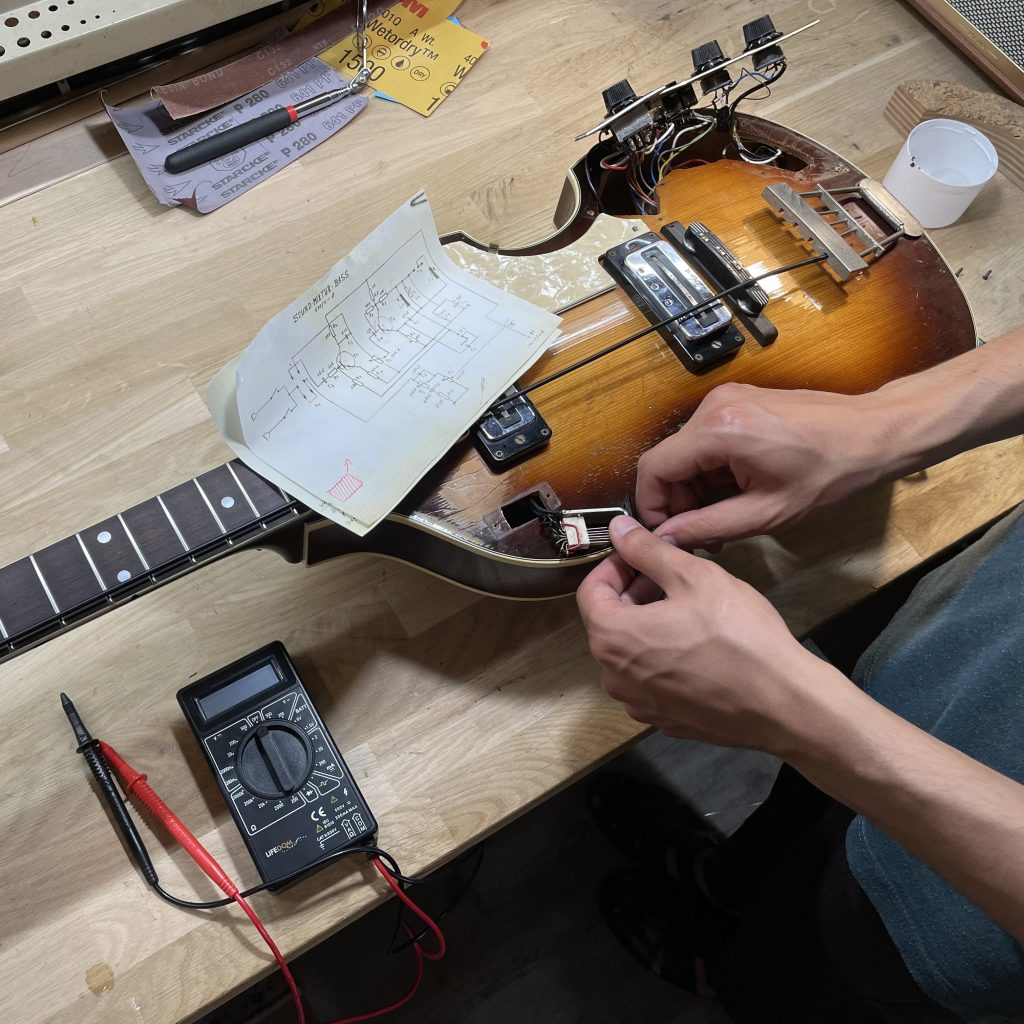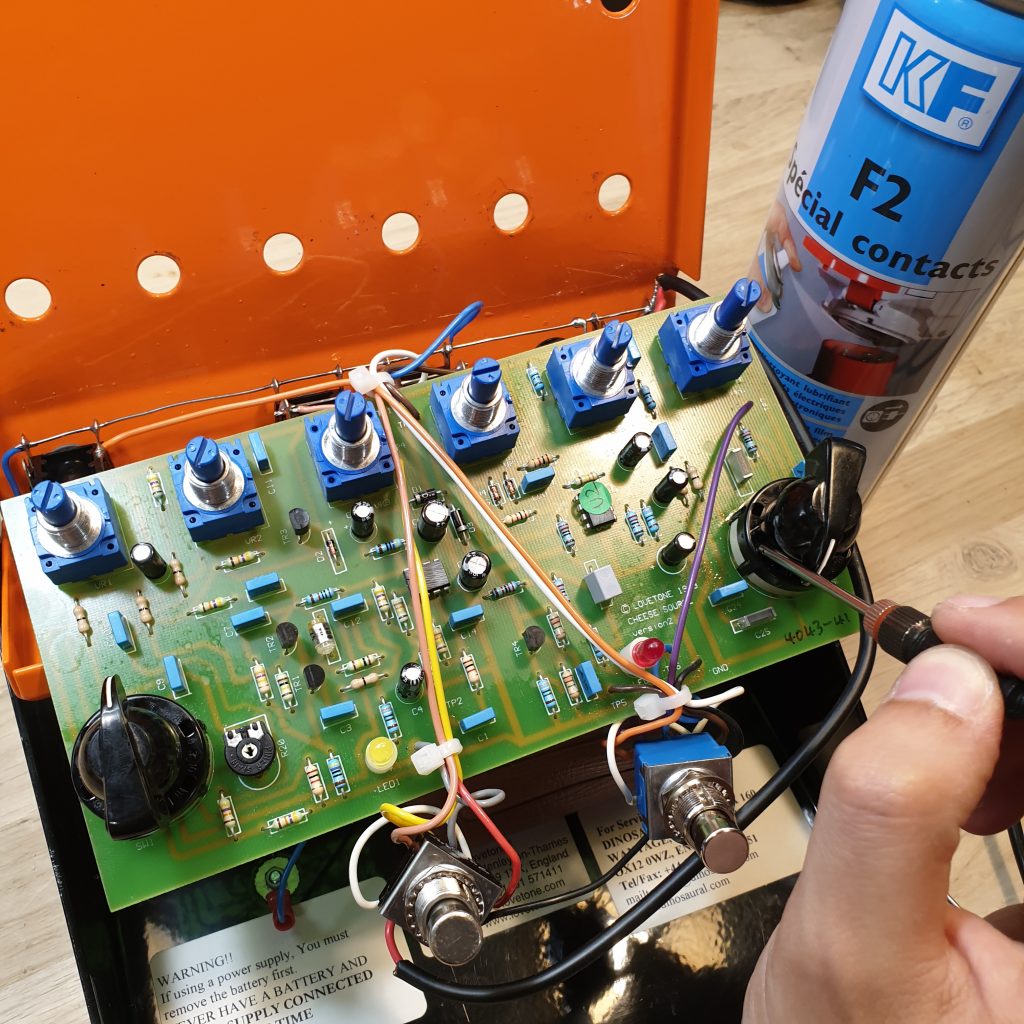 In addition to our service offers on guitars, we offer restoration services on your vintage amps (Fender, Gibson, and other tube amps built pre-1965) and are able to repair your effects pedals – Boss, Ibanez, Electro-Harmonix, Maestro, Proco, Lovetone, and other vintage effect units…
We also appraise and purchase all types of electronic musical equipment: effects pedals, amplifiers and studio equipment.
A brief history of electronics in guitars
The 1930s saw the advent in the United States of the electromagnetic field microphone for guitar, a patent for which was granted in 1937 to George Beauchamp (1899-1941) and Adolph Rickenbacker (1887-1976) when they registered their instrument called " Frying Pan." Another iteration of the microphone, which was a real commercial success, was given the same year to Guy Hart, Gibson's general manager – although having been developed by Walter Fuller, the company's electronic engineer – and appeared in the Gibson EH-150 lap-steels before being mounted on the Gibson ES-150, the first mass-produced electric guitar. This so-called "bar pickup" microphone was quickly adopted by jazzman Charlie Christian (1916-1942) when he took the ES-150 in his hands, whose name would subsequently be associated with the model as he had promoted its popularization . Thus, we can say that since this period there has been an intrinsic link between a previously essentially acoustic instrument and the power of hundreds of volts restrained so as to increase the sound of the guitar tenfold like never before.
Starting with the lap-steels of Leo Fender (1909-1991) which, accompanied by the emergence of a new alloy with improved magnetic properties, AlNiCo, led to the development of the famous single-coil pickups found subsequently in all Fender Stratocasters, Fender Telecasters, Fender Jazzmasters, Fender Mustangs and other vintage Fenders, up to EMG pickups, including humbuckers, double-coil pickups whose authorship is disputed between Seth Lover (1910-1997). ), Gibson engineer and creator of what would become the legendary PAF, and Ray Butts (1919-2003), whose Filter'Tron pickups were fitted to Gretsch guitars from 1957… There are just as many variations of assembly which, coupled with the volume and tone controls that form potentiometers and capacitors, each have their characteristic sound and have brought the electric guitar to dominate popular music from the middle of the last century to the present day.
It therefore goes without saying that the perfect functioning of the electronics of an electric guitar, a fairly rudimentary assembly, is the sine qua non condition for its proper use, without which it would once again become a piece of wood, certainly attractive to the eye but inert and unusable in terms of sound production!
Get in touch via our contact form