Although wood is a solid material, musical instruments remain nonetheless fragile objects.
The appearance of cracks can on the one hand be caused by excessive tension in the wood, on the other hand by external influences such as impacts or knocks.
The best way to avoid them happening is to protect your guitar well by storing it in a sturdy case when you are not using it, and storing it in an environment with constant humidity and temperature. Also, it is important to avoid thermal shocks, which can occur for example when leaving a guitar in a vehicle in summer.
Wood is an organic material which reacts to its environment. A very dry environment will lead the wood to naturally shrinks, but given that the different parts of an instrument are glued together, they are firmly kept in place: this tension is the leading cause for wood cracks to appear.
During dry periods of year, which can occur both in the winter or in summer, it is recommended to place a guitar humidifier inside your instrument.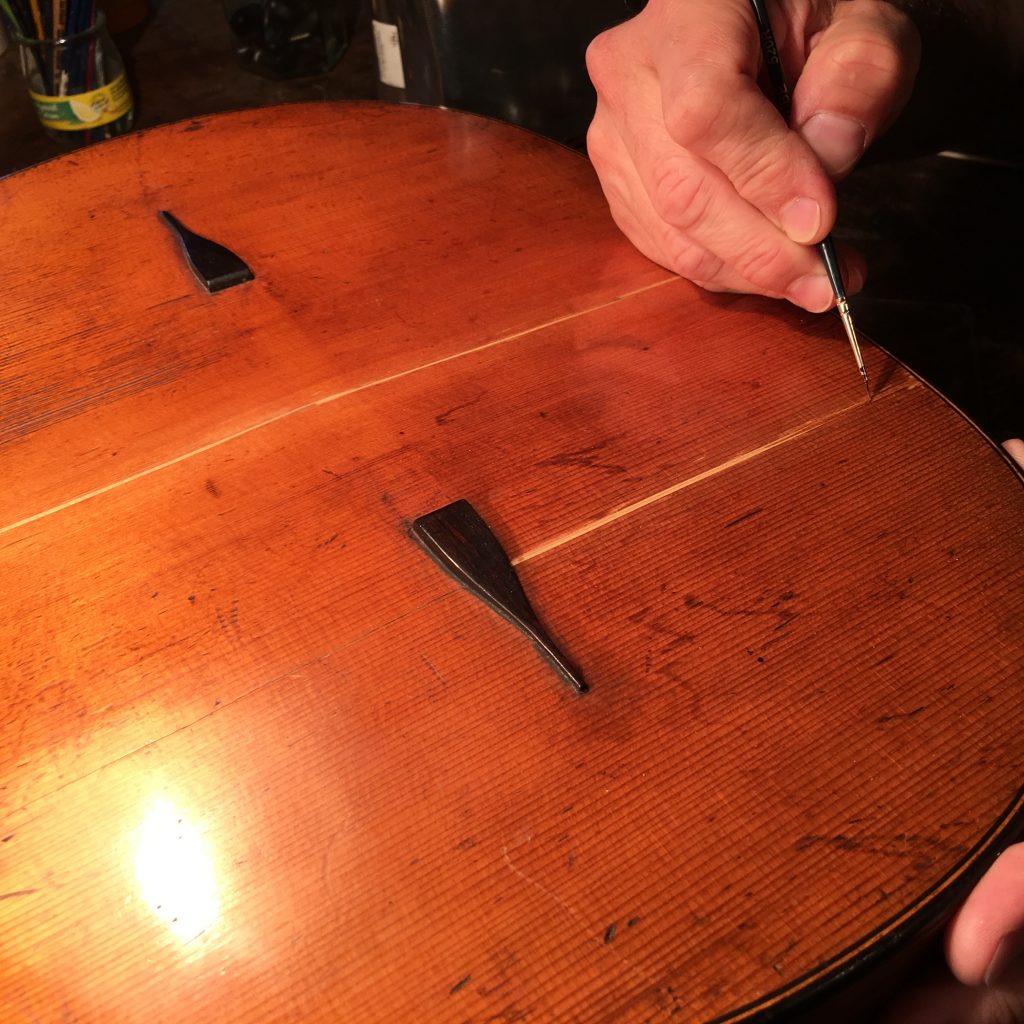 If you observe a crack starting to appear, it is crucial to have it repaired quickly before it grows any further. It is important to avoid touching the breaks, a light-colored wood like the spruce of a soundboard is quick to turn black. In order to properly repair a crack, it must be glued back together by placing small reinforcing cleats inside the body to stabilize it and prevent it from opening again. If a break is too much opened, we will craft a small shim to fill the gap. This shim, chosen from a wood that is as close as possible to the original wood (the type of wood, its color and its grain), will be adjusted, glued and flattened before varnishing to make it as invisible as possible.
Repairing a broken headstock
When constructed, the headstock of a guitar is tilted back to allow the strings to rest on the nut at a specific angle. In order to achieve this, the head is either glued at an angle to the neck, or cut directly in that way from the same piece of wood (this is particularly the case on Les Paul models).
Since the strings exert significant tension there, it is a fragile point and breakage is not uncommon in the event of a fall, even if the instrument is stored in a bag or case. A crack or even the headstock coming undone can also result from other factors, such as storage in poor conditions or if it was not fit properly when it was first constructed (often seen on ouds or classical guitars). A space is then created between the neck and the headstock, if it is not completely torn off.
The first instinct to have in the event of a broken headstock is to remove the tension from the strings to avoid worsening the problem. If small splinters of wood are torn off, you can put them aside in an envelope or a bag, they will be glued back into place during the repair.
By using powerful glues, breakage may be permanently repaired. Over the years, we have even observed that in the event of another accidental fall of an instrument which already had a broken headstock repaired in our workshop, it never breaks again in the same place.
After the preparations for regluing and putting under clamps, it is crucial to even out the area to guarantee a smooth joining of the neck and headstock that will not bother you to the touch afterwards. If you wish, we can carry out a varnish repair which will make the break invisible.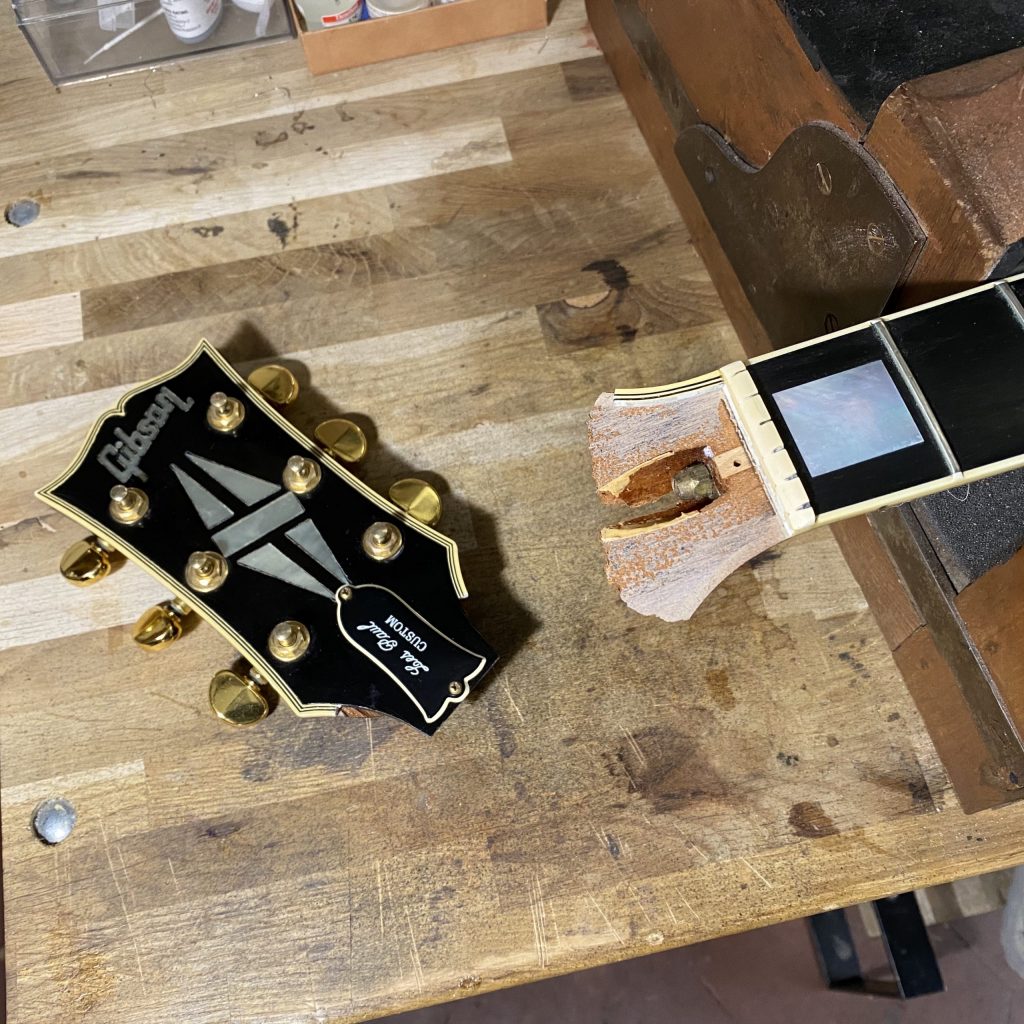 Do not hesitate to entrust us with your instrument, we guarantee a professional and durable repair.
We are able to intervene in almost all cases to make your instrument playable again. Check with your insurance to see if part or all of the repair cost can be covered in the event of accidental damage.
We specialize in the repair of all plucked string instruments. If you encounter a problem with your instrument, do not hesitate to contact us to resolve it. Most damage can be repaired.
Here is a non-exhaustive list of some recurring cases:
bridge partially detached or torn off
cracked or broken bridge
separation of the top or back
detachment of the tonebars or bracing
detachment of binding
detachment of the fretboard
neck joint coming out of the mortise
If you notice any loose parts on your instrument, do not delay in having them repaired before the damage gets worse. Indeed, the instrument being under constant tension of the strings, a detached element could harm its stability and lead to further deformation.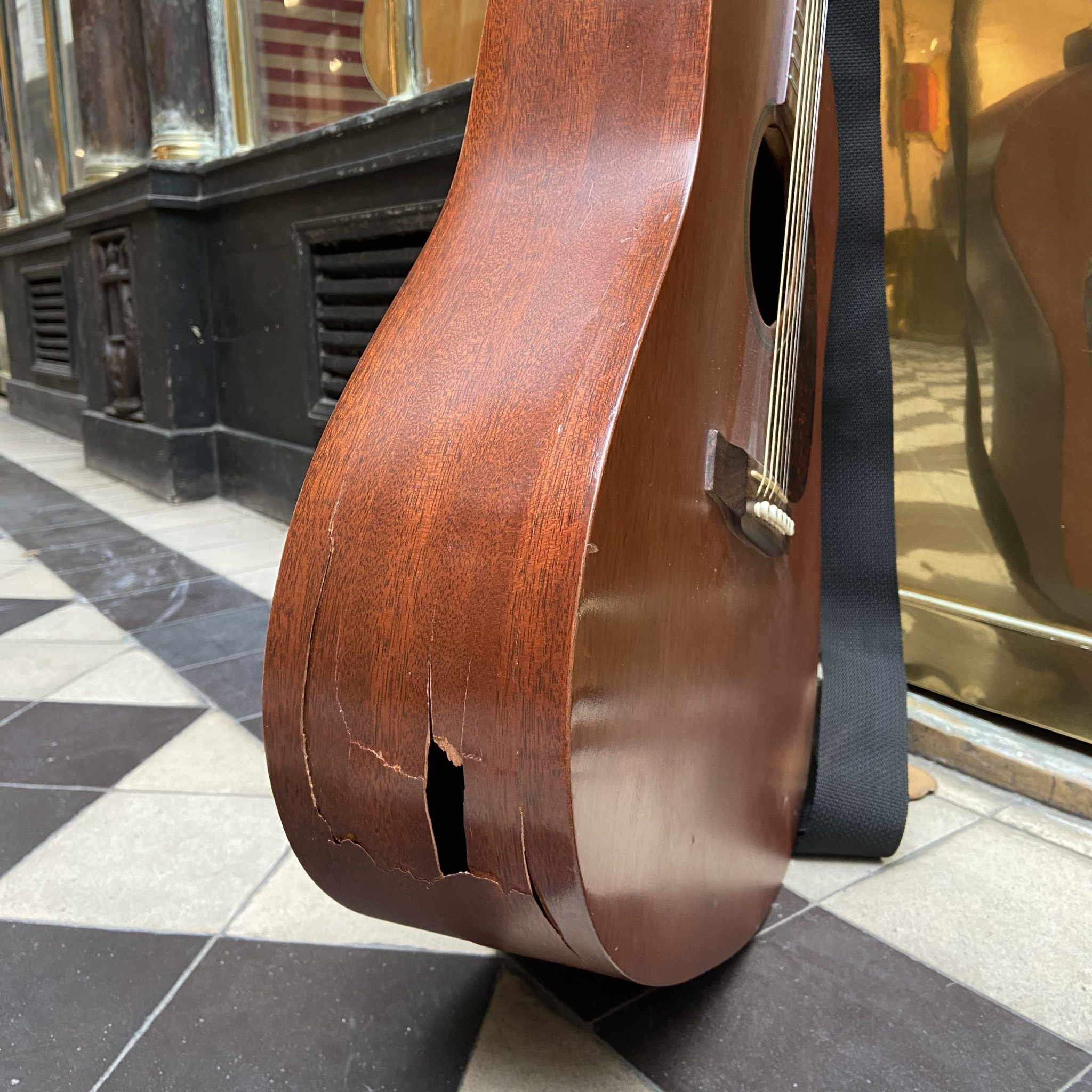 You can also consult us for all kinds of repairs or modifications to your instrument:
repair of various deformations
repair of impacts or holes if the instrument has suffered a blow or shock
left-handed transformations
modification of the bridge for better accuracy if the placement of the bridge saddle groove has been incorrectly calculated
greasing and adjusting tuning pegs
tuner replacement
replacing a missing tuner button
adding dot inlays on a fretboard
split fingerboard repair
replacement and addition of binding on the edges of the body and the fingerboard
installation and adjustment of pins and strap buttons
bridge or tailpiece replacement
installation of golpeador or pickguard
stringing and tuning of an instrument
complete cleaning of an instrument
and much more…
We would be delighted to welcome you to our workshops in Paris or Clermont-Ferrand to advise you and offer you a repair solution adapted to your instrument.
Get in touch via our contact form